I have installed a GNOME desktop on my Ubuntu 18.04 server. The installation went well, I can login and etc. However, some of the netwrok services/features do not work.
For example I'm unable to enable Remote Desktop most likely due to "No Networks selected for sharing" message. Furthermore, I'm unable to connect using the top right menu. I only get message "Wired Unmanaged" as shown below: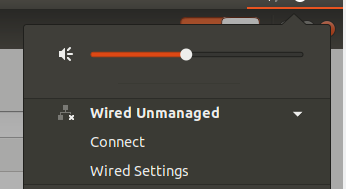 Interestingly my host has IP address so I'm connected to LAN.